HB-14
SERVICE BODY
The HB-14 Service Body by Heritage Industries is the first of its kind. This 14′ body comes equipped with numerous innovative features to make it the most efficient and reliable truck in the industry. The HI-Vision Truck-Link Telematics System allows the operator to control all aspects of the truck's service equipment via touchscreen with graphical user interface. It sends live data plus historical data reports to enable operations and fleet managers to make better business decisions. The state-of-the-art HVAC system utilizes chassis factory vents for full climate control without idling the chassis. Powered by a Miller EnPak A60 auxiliary power unit with an HI Quick Dock, this system results in less fuel consumption, better chassis reliability, and overall lower owning and operating cost.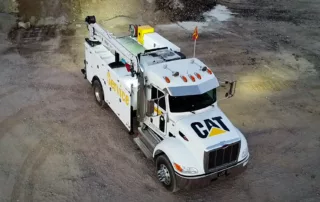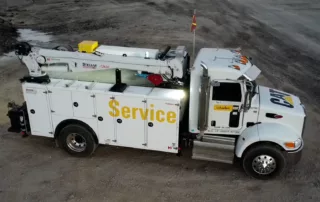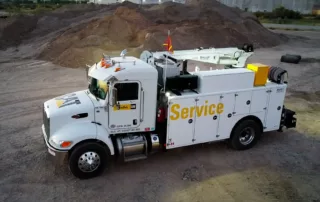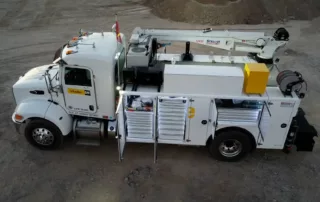 STRUCTURAL
All-aluminum side packs: 22" deep x 62" tall; flush front bulkhead
3-point steel compression latches, stainless steel hinges, spring loaded door stops
Overlapping doors on horizontal compartments
Inverted door jams with secondary water-tight gutter system
Slide out driver side step for full height drawer unit access
Fold down aluminum tailgate, 12" height
Master-lock system
Rubber fenderettes
Rock guard and mud flap kits
Weight: 23k lbs. (*complete with all  Accessories/additions listed as installed on a 2021 Peterbilt 337 extra cab.)

 
HYDRAULICS
CAT® hose & fittings
Multi-staged open looped hydraulic system
Electric over hydraulic control valving, manual override levers
Power out/power down rear outriggers
Stellar 12k lb. capacity crane with 30' reach
10 micron absolute high pressure filtration
10 micron low pressure return filtration

 
ELECTRICAL
Miller EnPak A60GBHW with cold weather package
HI EnPak Quick Dock
eCoolPark Heat and AC System
2000w pure sine inverter with key-on control switch
HI-Vision Truck-Link Telematics System
7" Touch HMI (Human Machine Interface)
Multiplex control modules
High amperage voltage regulating solid state auxiliary lighting, valve drivers
AIR
250 PSI rated SOR (Separator, Oiler, Regulator)
40 gallon air reservoir
HD polycarbonate duel pedestal air reels.
USED OIL SYSTEM
30 gallon reservoir
4-way reversal valving
1" 1:1 ratio double diaphragm used oil pump
STORAGE
Full LED compartment lighting
Infinitely adjustable shelving tracks
New all-aluminum HI drawer units and bolt bin
Work deck bumper with rear access storage, 80" wide x 33" deep
E-Track bed cargo tie down system
HI "coffin box", (72"L x 20"W x 20"H), easily stows 5-gallon buckets
SAFETY
Drop down stair-case style step
Side pack mounted handrail and stow-away grab handle ensures 3-point contact for entry/exit
Green/amber safety beacon
Lighted whip flap with quick disconnect
4 LED flood lights
32″ LED light-bar
Exterior LED DOT light package
Spray-on bed liner on galley floor, galley walls, side pack tops, tailgate and rear bumper/work deck
Backup camera and alarm
10 lb. fire extinguisher mount, rear driver side
Would you like more information or get a quote?
Fill out the form below or give us a call!
385-257-7950